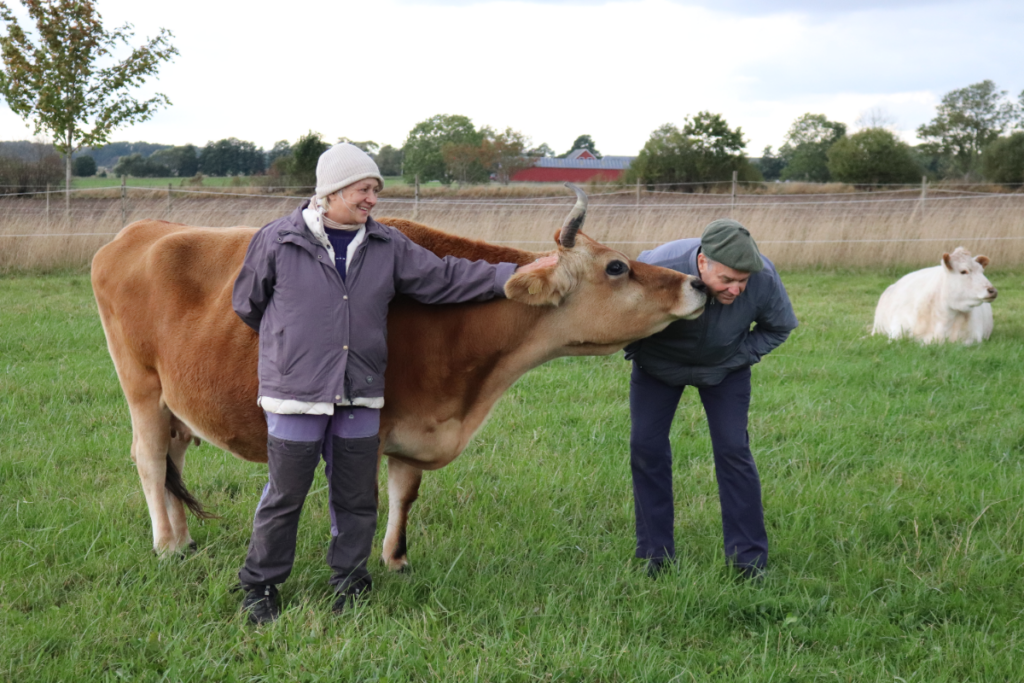 This is a small organic farm with the ambition of nurturing the soul and the soil. For many years we (Eric and Emiilia) have had a vision to live a sustainable, spiritual life by putting into practice years of acquired knowledge and training. In the spring of 2017 we bought a small property in the very South of Sweden to realize our dream. With Bhumi's Farm, we pursue the main goal of creating a sanctuary for the farm animals and their caretakers.
From the beginning our aim has been to create a small community for simple living and spiritually enlightened life. Simple living consists of using Permaculture principles for growing organic vegetables, berries, fruits and nuts, care for the farm animals according to the teachings of Ahimsa and Goraksya (non-violence, non-slaughter), and using manure to build up soil as in Regenerative Agriculture. Our commitment for nature and animals is based on a belief that the Earth and life are sacred and we need to nurture them and each other.
Simple Living - High Thinking
Our own spiritual practice is based on the ancient Vaishnava or Bhakti-yoga tradition of India (also known as the Hare Krishna tradition) and contain studying Vaishnava literature, individual mantra meditation and Kirtan-yoga (singing mantras together). All volunteers and visitors are are invited to learn and participate in this. But people practicing other spiritual traditions are also welcomed and offered space for their practices. It is not required to have any spiritual practice at all in order to volunteer at our farm, but while sharing space, life and work together, we all need to have a curious and empathetic attitude towards spirituality.

Simple Living – High Thinking
Bhumi's Friends
Möllenäsvägen 83-7
27572 Lövestad
Mail: info@bhumi.se
Phone: +46 76-823 38 33